MAP's Photo Gallery for 2003-02-08
A trek into the woods
These are thumbnails of all the pictures taken on 2003-02-08. Clicking on a thumbnail image will load a larger image.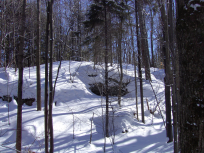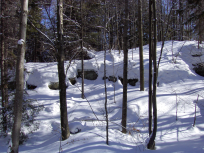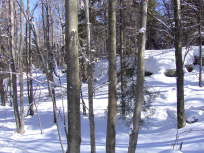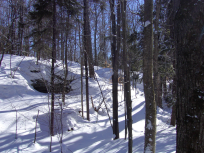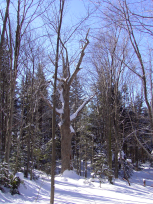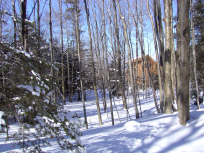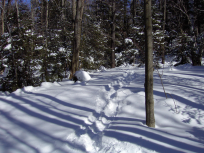 These pictures were taken on a snowshoe trek into the back of my property.
The first four show some (short) cliffs as viewed from across a little notch. If you look carefully, you can pick out features in the overlapping areas to see what order they go in.
The last three are taken near the end of the trip. The first of these shows a large tree I picked out as I was coming out of the woods. I then walked up to the tree and turned ninety degrees to the right and took a picture in which you can see the house, I then turned another ninety degrees and shot back into the woods, showing the prints of my passage.
You can see other shots of the cliffs, in the fall, with people for scale.
---
---
Web site designed, developed and hosted by MAP Network Engineering
MAP Network Engineering uses, supports and recommends Open Source software and open standards.








Use of the logos above does not imply endorsement by the respective organizations of MAP Network Engineering sites or services.
On the contrary it implies endorsement by MAP Network Engineering of those organizations or software.
---
Page generated 2022-09-28 at 13:49 GMT
Copyright © MMXXII Michael A. Patton
---
And finally, a random note:
I live in my own world. But, it's OK, they know me here.